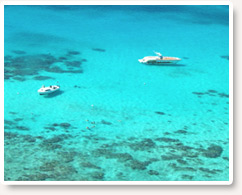 Belize Barrier Reef The Belize Barrier Reef is a series of coral reefs straddling the coast of Belize. It is roughly 300 meters (1,000 ft) offshore in the north and 40 kilometers (25 mi) in the south within the country limits. The Belize Barrier Reef is a 300 kilometers (186 mi) long section of the 900 kilometers (560 mi) long Mesoamerican Barrier Reef System, which is continuous from Cancún on the northeast tip of the Yucatán Peninsula through the Riviera Maya up to offshore Guatemala, making it the second largest coral reef system in the world after the Great Barrier Reef in Australia, and is popular for scuba diving and snorkeling.

It is Belize's top tourist destination, attracting almost half of its 260,000 visitors, and vital to its fishing industry. Charles Darwin described the Belize Barrier Reef as "the most remarkable reef" in 1842.

The popular spot among recreational scuba divers is The Great Blue Hole, a large underwater sinkhole off the coast of Belize which lies near the center of Lighthouse Reef, a small atoll 100 kilometres (62 mi) from the mainland and Belize City. This site was made famous by Jacques-Yves Cousteau who declared it one of the top ten scuba diving sites in the world. Divers are lured by the opportunity to dive in crystal clear water and meet several species of fish.