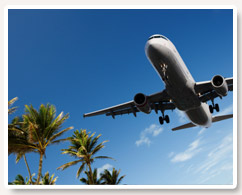 Airlines Getting to Belize: Belize is about 2 hours and 15 minutes by air from Miami, Florida and Houston, Texas. U.S.A. gateway cities to Belize include Miami, Houston and New Orleans, Louisiana. Direct flights are also available from Los Angeles, New York and Washington, D.C; and from Toronto, Canada. From Mexico, direct flights to Belize are available from Cancun. Most Central American countries offer direct flights to Belize, including Guatemala, Honduras and Costa Rica. Direct service from the UK and/or Europe may be have a stopover in U.S.A. or Cancum, Mexico. All international airlines land at Philip S.W. Goldson International Airport (PGIA) in Belize City. Click here to access PGIA airport information.

International airlines serving Belize: American Airlines (Direct flights from Dallas/Fort Worth, Miami), Continental Airlines (Direct flights from Houston), Taca (Direct flights from El Salvador, Houston, and Miami).

In Belize the following airlines may be of assistance. Tropic Air and Mayan Island Air will fly right to a landing strip in Sarteneja, only a few miles from Caribbean Blue. Please arrange with Blue Ltd. ahead of time to ensure pick up from the Sarteneja landing strip.